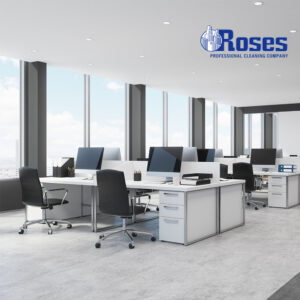 Office Cleaning in Las Vegas is what we do at Roses Pro Cleaning. Our professional team is ready to serve your company to keep your common areas and individual offices clean. With sanitizing equipment, we are ready to fight the spread of germs and reduce potentially harmful environmental factors.
Offices
Many companies are back to work in offices and the need for clean surfaces has never been more important. The main areas we focus on are trash removal, bathroom cleaning, tile and carpet cleanliness and office surfaces such as desks, phones and keyboards. We event clean high touch areas including door handles and chairs. We're meticulous in our process as we take precautions to keep your workers safe.
Sanitizing
Using state-of-the-art sanitizing equipment, the Roses Pro Cleaning team is at your service. With today's attention on cleanliness and sanitizing, we are your one stop shop.
Using only environmentally friendly liquids, surfaces are cleaner and dry in a short time than in the past. This is important when an office needs to get back to work. Typically, we arrive in the evening to allow for maximum time to clean. However, some offices require a daytime cleaning when their team is at work. In these cases, we take every precaution to stay out of the way and safe as possible.
Rose Pro Cleaning
As a family owned and operated business, we take care of your office like it's our own. The process is part of what makes Roses different than the competition. The pride in a job well done is the exceptional difference. For a free estimate, call our offices direct at (702) 658-4840. We will schedule an appointment to view the area and give the best available quote.
Please ask about our complete office sanitization process. It's the most requested service of 2022 and covers all high traffic areas and conference facilities.