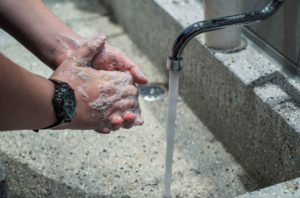 Las Vegas office cleaning procedures are an important part of staying safe in the current environment. The regular plan has become obsolete with new tactics becoming a more comprehensive normal. As we begin the reopening process, planning is vital.
Las Vegas Office Cleaning Procedures
As the reopening of many offices and businesses takes place, there will be changes to cleaning procedures. Read through these suggestions based on current guidelines:
Regular cleaning of door handles and commonly touched items, including phones, desks and pens. Front desk procedures are a key to help keep the office safe.
Keep a social distance when possible. While vital, be conscious of your surroundings to ensure proper distance is being kept. Conference calls and video calls will continue for the near future. These will help keep us safer.
When conferences occur in person, a cleaning of the chairs, conference table and conference phone should occur. It may seem a little overboard but consistent cleaning helps.
Restroom cleaning is another area of concern. More consistent cleaning of the floors, toilets, door handles etc. will occur. Presumably, more people will be hand washing which means a need for more diligent cleaning procedures in this area.
Kitchen areas have a lot of traffic throughout the day. The kitchen table, refrigerator, sink as well as dishes are to be kept clean. A wipe down of the area with mild soap and water will help reduce health risks.
Keep your individual office safe by cleaning the desk, office phone, door handles, chairs, computer etc. One key area is the cell phone. Be sure to wipe down the cell phone a few times per day. This may seem tedious but this helps contain the spread of viruses.
Roses Professional Cleaning
For office cleaning and helpful disinfecting tips, call Roses today at (702) 658-4840. Our professional cleaning staff is ready to get your office back to work.