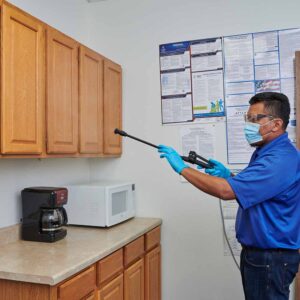 Whole office sanitization is more common than ever with recent health events. Keeping Las Vegas offices clean is what we do at Roses Pro Cleaning. From carpet and tiles to walls and windows, our team is ready to serve you.
Office Carpet Cleaning
Commercial carpet cleaning is sometime difficult especially with set in stains. At Roses Pro, we use eco friendly products to break down stains and keep them from coming back. Our process also sanitizes the carpet to maximize its cleanliness.
Office Tile Cleaning
Tile floors in an office and/or common areas get lots of traffic. Keeping the tile floors clean is a challenge for even the most experienced cleaners. At Roses Pro, we have all the latest equipment to deep clean tile and specialty floor coverings. While some floors need extra care, you can count on the Roses team to get it clean.
Office Restroom Cleaning
Restroom cleaning is more than just cleaning the stalls, toilets and floors. This process reduces germs to keep your staff healthier. When our team has completed a restroom, the shine speaks for itself.
Office Window Cleaning
Window cleaning in an office setting can get overlooked. Windows that are higher than a normal sightline still need to be cleaned. Our team of trained window cleaning experts cleans every inch of windows no matter their height. Looking good for your employees, guests and clients gives a great first impression and beyond.
Roses Pro Cleaning
As a family owned and operated company, we treat every office like our own homes. Whole office sanitization helps along with a deep clean the common areas, high traffic areas and the hard to reach areas. Call Roses Pro Cleaning for office cleaning today at (702) 658-4840.