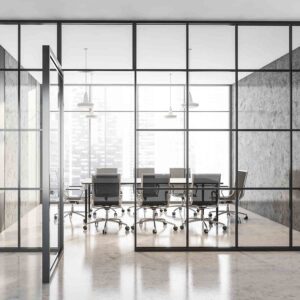 Cleaning commercial building windows keeps offices bright and gives off a good first impression. At Roses Pro Cleaning, we understand the importance of clean windows and how they affect productivity. Our team cleans up office and common area windows allowing maximum light through.
A bright work space is proven to increase productivity. A study found sunlight has a powerful effect on mental health, boosting mood and lessening employee anxiety. Better moods and lower anxiety translate to more productive work. And people exposed to direct and indirect sunlight reported higher job satisfaction and organizational commitment.
While we are cleaning commercial building windows, there are other types of commercial spaces we serve. Below is a short list for your review:
Fitness Centers
With high traffic areas such as fitness centers, floors and equipment need to be cleaned regularly. Walking traffic from the parking lot brings dirt and tar that gets transferred to tile, carpet and basketball courts. The regular use of equipment is also a prime area for regular cleaning. Reduce the spread of germs and schedule a regular cleaning today.
Office Buildings
Reception areas and community work areas receive daily use. As the highest traffic areas, floors and carpets get dirty. Our team is experienced at office cleaning from small equipment and any surface. Keeping a clean office also includes bathrooms, mirrors and toilets.
In addition, clean windows in the reception areas make a good first impression. We specialize in office buildings and common area cleaning. A regular schedule for cleaning these areas is recommended.
Roses Professional Cleaning
We provide Las Vegas janitorial services for commercial businesses and construction sites. As a professional cleaning company, it's our pleasure to keep Las Vegas clean and we are here to serve you. For a free estimate, call Roses Pro Cleaning today at (702) 658-4840.